Discover more from The 5to9
Don't quit your 9-to-5, build a 5-to-9 instead
How to get your 5-to-9 off the ground
10 steps you should take this weekend
So you have an idea for a 5-to-9.
Whatever your idea is - an app, a product, a service - it's not ready. It's not ready because ideas are not enough. Taking something from the seeds of an idea to a fully fleshed-out business takes time and effort.
So what do those first baby steps look like? How does one take an idea and give it shape? 
Well, I have a few suggestions and they all require you to treat your 5-to-9 as a small scale, one man (or woman) operation.
Almost like a start-up but with fewer ping pong tables and CEOs. 
It's just you and a good wifi connection.
Remember, the sole purpose of a 5-to-9 is to find out: Is this idea really a thing?
As it turns out, all it takes is a free weekend to get started.
---
Getting Started
You can start a 5-to-9 over the weekend if you want. But there are some basics we should cover first.
Register your "company"
Your company is just you and it'll only be you for a long time. Assuming you're in the States, you should formalize things with Uncle Sam and register your business.
(I'm not a lawyer so please consult someone more knowledgable than me on this.)
At the very least register as a Limited Liability Company. The process varies by state so check to see what the requirements are.
Or if you want to get a little more advanced you can register as a corporation (yes, even if it's just you). Again, check your state's requirements.
You don't need a fancy business name. Pick something and move on.
Set up a bank account
Please don't use your personal bank account. It makes things very difficult when tax season comes around. Even if you don't foresee making money for a while, set one up now so you don't have to worry about it later.
I use Azlo because it's free, it's online, and I don't have to physically walk into a branch to set it up. Did I mention it's free, as in, no minimum balance fees, no transaction fees. It's just what you need when starting out.
Set up payroll
Eventually, you will have to pay yourself. To keep things simple I use Gusto. It handles all the tax stuff for me so I don't even have to think about it. Honestly, I haven't even thought about it until now.
---
Make a Plan
You need something to guide you for these first initial steps. I wouldn't go so far as to call it a business plan, but a plan for how you want to allocate your time, money, and resources. 
How to spend your time
The literal version of a 5-to-9 means you go to your regular job from 9 AM until 5 PM, then dive into your side thing between the hours of 5 PM and 9 PM (it could also mean you wake up early and work on your side thing from 5 AM to 9 AM).
You, of course, don't need to follow this strict routine - although it will add 20 extra hours a week to devote to your idea. However, you should put a schedule in place to avoid "dabbling."
Remember, this is not a hobby, this is something that requires attention.
How to spend your money
A 5-to-9 doesn't require you to raise investments, but there are some costs involved such as:
Registration fees for LLCs or corporations

Cloud storage

Website and domain name

Professional subscriptions

Supplies
I use YNAB (You Need a Budget) both for my personal budgeting and business budgeting purposes. Every dollar that comes into my business is assigned a "job." It's like your grandma's envelope method but on steroids.
How to utilize your resources
Resources is a broad term. Your 5-to-9 might just be you at a desk in the corner of the spare room. Or you might be producing paintings or knick-knacks for your Etsy shop and have physical supplies that require storage.
Whatever it is, your 5-to-9 is going to take up physical space (or at least that's how the taxman sees it). What I'm trying to say is that maybe it's time you move your stuff off the kitchen table and find a permanent place to run your operation.
I'm already giddy thinking about potential clean up and re-organizing projects for you, but that's because I love a nice tidy space.
---
Things are looking UPP
Unique Pain Point.
What exactly are you trying to solve for people? I'll use my business as an example. I don't just build websites, I build websites with custom learning management system capabilities. 
I can dive deeper, I don't just build websites with LMS capabilities, I build websites with LMS capabilities for folks who have something to teach but hate figuring out "computer stuff."
In other words, my UPP is focused on people who know they have something to teach (and sell) but are too busy to figure out how to set everything up on their own. That's where I come in. 
Finding your UPP will take time and a lot of trial and error. 
Get a client or two
It doesn't matter what kind of 5-to-9 you have, get a client or two. There is no better learning experience than working one-on-one with another human who needs something from you.
Preferably this is a client that pays you, but I suppose if you're starting out a family member or friend will suffice. The purpose of a client is to understand those tiny thorns in their side.
Why exactly do they need your services (or products)? What is so unique about you?
See what other people are looking for
Here's a fun idea. Sign up for Upwork (a freelancing marketplace) and just browse different gigs and job offerings. 
What are people looking for? You can apply if you want for the gigs (might be another option to find clients), but the main goal here is to look for the specifics.
Begin keeping track in a notebook or app all the specific requests people in your target market are making.
Write about it
Before you close out this tab or swipe away, hear me out.
I know not everyone is a born writer, nor does everyone want to share everything on the internet.
However…
I am a personal testimony to the power of writing online. I literally manifested my career trajectory simply by writing about it.
Here's why writing is important for any 5-to-9:
Writing helps hone in your thought process

Writing lets you solicit feedback on your ideas

Writing will attract others interested in what you are creating

Writing creates another asset for your future business

Writing is fun
I could keep going. Even if you are creating knick-knacks for Etsy, writing about creating knick-knacks for Etsy is a way to share valuable insights into aspiring knick-knack creators. Sure, other knick-knack creators aren't your target market, but it opens up future possibilities.
(I don't think I've ever written "knick-knack" that many times before.)
Now, how exactly do you get started writing online? Luckily, you have many routes at this point:
Start your own WordPress blog

Sign up for Medium

Create a Substack
I stumbled across the following graphic by @mario_gabriele_ to showcase the many options for content creators. If you are just starting out with your 5-to-9, aim for the "Creation" and "Distribution" bubbles.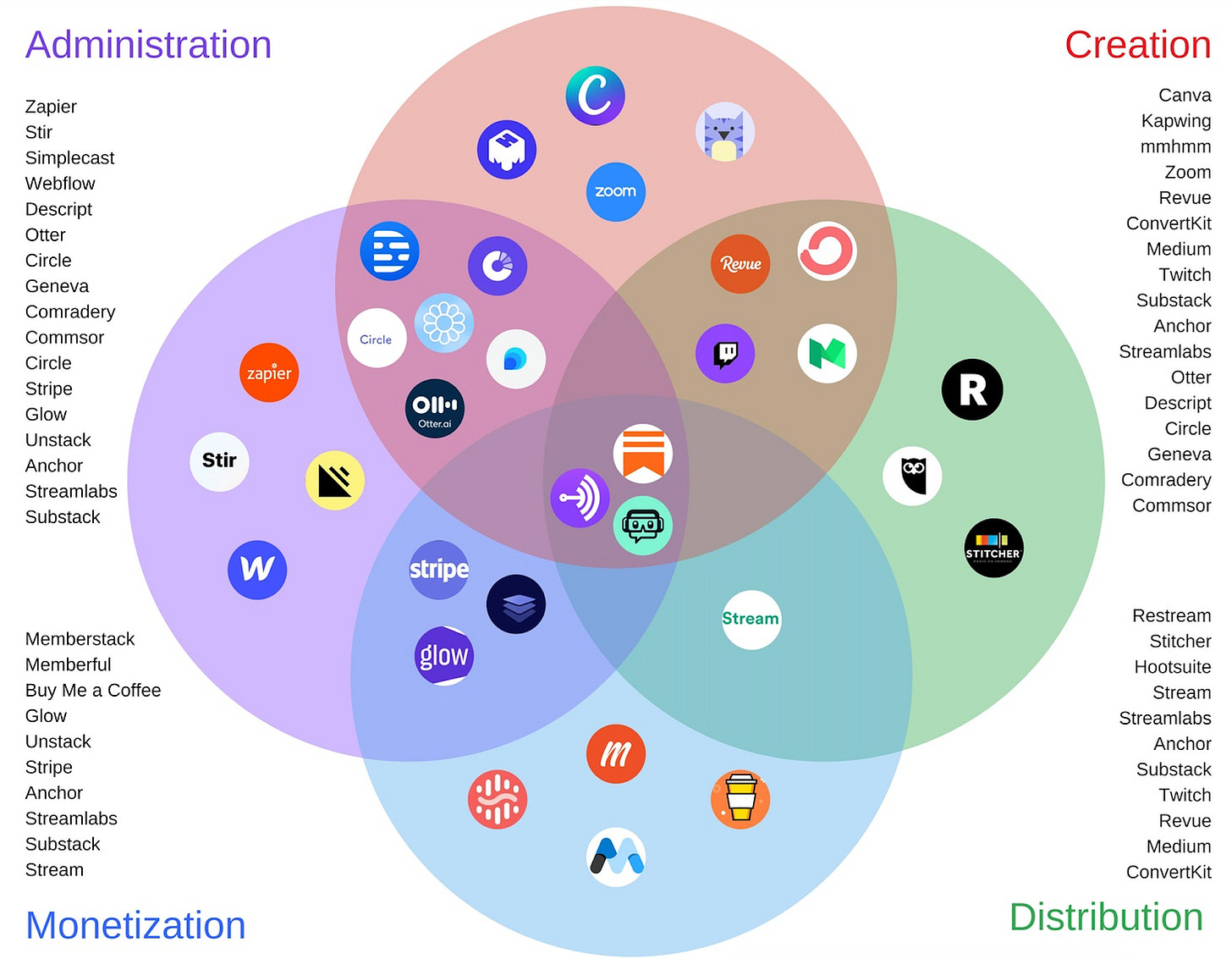 And then… just start writing.
---
Last step
Get to work.
Whatever it is that you do, do it.