Discover more from The 5to9
Don't quit your 9-to-5, build a 5-to-9 instead
5to9 Case Study: Reed Rawlings
Writer and Editor for Mind Cafe
I can't remember the exact first time I came across Reed, but I remember my initial thought.
This guy is serious about quality.
It's not that most editors of Medium publications don't care about the quality of their work, it's just that, after writing there for more than 5 years I've come to expect a certain "parting of the velvet" when it comes to publishing my posts. I give a wink and suddenly I'm in the exclusive club while others wait in line.
Not with Reed.
Reed is one of four gatekeepers to the popular Medium Publication: Mind Cafe. Their tag line doesn't overpromise: Relaxed, inspiring essays about happiness. It's a publication founded on quality and it's people like Reed who uphold the standards.
Which brings me back to my initial thoughts about Reed.
When I typically submit an article to a pub (Medium vernacular for "publication"), a few days go by before it's live. An editor might ask to tweak the headline or change the header photo, but for the most part, it's a simple transaction.
With Reed, it's different. Reed gives writers, and I hope I'm saying this correctly, feedback.
Some (but not all) editors pump their publications with as much content as they can, which means writers hardly ever receive feedback. But Reed is generous with his time. No, he might not publish your article right away but he helps you to become a better writer.
It's why I, and writers like me, turn to Mind Cafe to publish our best work. It's why over 90,000 readers follow MC for relaxed, inspiring essays about happiness.
That's why I was surprised to learn that the care Reed puts into his editorial work and writing isn't even his 9-to-5, it's his 5-to-9.
I sat down recently with Reed to ask him some questions about his 5-to-9. I wanted to know more about how he got into writing and what his long term goals are. I wanted to learn what he does for a "traditional" job and what advice he has for those looking to break into writing with a 5-to-9 outlet.
---
Who is Reed Rawlings?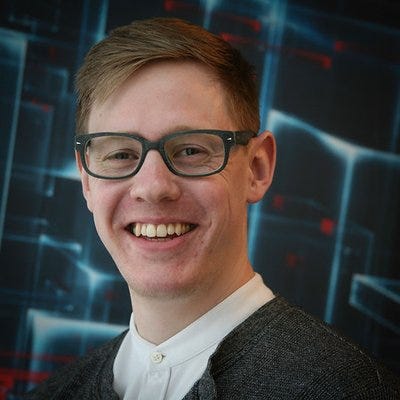 As I mentioned, Reed is a writer and editor all while holding down a full-time job at Google.
He began researching and writing about self-regulation in 2015 and is currently focusing his writing around "self-compassion and acceptance."
I write for people who want to do a little bit more each day. People who want to learn more about how their minds work. And people who are trying to carve out a better future for themselves.
- From Reed's blog https://reedrawlings.com/
Currently, Reed writes online, creates courses, and is an editor for Mind Cafe. Pop on over to his website to download his book, Overcoming Procrastination: A Field Guide to Getting More Done.
---
How does Reed earn income through his 5-to-9?
Reed gave me a breakdown of his income as follows:
Editor for Mind Cafe - Medium funds partner publications, like Mind Cafe, to produce quality publications. As an editor, Reed is paid a stipend for his editorial efforts through this fund (this was actually new to me but found this unlisted article on Medium about partner publications).

Course Writing - Reed writes coursed for Highbrow which "delivers a short, 5-minute email lesson to help you learn anything from art and philosophy, to business and personal development."

Medium Partner Program - Exclusive articles written for Medium earn revenue for writers who are part of their partner program. You can learn how the program works here.

Stock Portfolio - Reed also has a stock portfolio that generates dividends every month.
"The next goal and what I really need to do to fully branch out is build out that email list and start having something that's my own."
---
What advice does Reed have for 5-to-9 writers?
Publishing on Medium is a great place to get started, however, Reed says you should set realistic expectations:
There are some writers on Medium who are making a comfortable living from their work. But they are in the top >1% of writers. Only the top 4-6% of writers on Medium earn more than $100 per month for their work.
Reed (nor I) mention these figures as a way to deter future writers on the platform. Instead, they are to show that 5-to-9 writers shouldn't look at Medium as a career, but just one piece of a larger machine.
Circling back to Reed's tweets above. There are other reasons Medium can serve you well. It's a great way to cull an already existing audience. There are no set up or hosting fees. And, it's a great place to practice in the open, test out new ideas, and make a little money from it.
---
What is Reed's non-monetary reason for having a 5-to-9?
For Reed and writers like him, writing about specific subjects offers an opportunity to learn more by sharing. It's also an enjoyable outlet.
Like me, Reed uses writing to get ideas and knowledge out of his head and out into the world. (I tend to look at this as social currency, the more you put out the more you receive.)
Also, for Reed, having a 5-to-9 is the next stepping stone to creating a life with more freedom. He enjoys balancing his work at Google with everything else, however, as he puts it:
"There's something about choosing exactly what you do that has a lot of appeal to me."
---
Does Reed had an exit plan?
What exactly are Reed's next steps? Is he happy juggling a full-time job and writing on the side?
Reed mentioned that his original goal was to hit $1,000 a month from his various endeavors to be able to support himself. He crossed the $1,000 per month a few months back but now has some hesitations.
I guess I don't know if I feel completely stable.
He says that he's in a constant evaluative state, which is a place I've been in before, and from my experience, it's both exhilarating to be so close and also equally terrifying.
I asked Reed how he's approaching his evaluation. What are the questions he's asking himself throughout his evaluation? Reed gave me three:
What would happen to me if I stopped bringing in my normal source of income? Could I get a new job?

How often do I want to be editing and writing? What will my new routine look like?

What does it look like to do exactly what I want and earn a full-time income off of that?
The last question is key. When you transition your 5-to-9 into something more, there are certain elements that change. For one, you have a lot more time to devote to it. I know when I started out I didn't know how to fill up that time and ended up wasting it on needless trappings of self-employment.
For another, a 5-to-9 can easily feel like a 9-to-5 once your livelihood is at stake. Soon, doing the thing you love doing becomes just another thing you have to do. It's not a good feeling.
It was reassuring to hear Reed speak of how he's evaluating his situation and know that he has the foresight to see what's ahead if he ever decides to exit his 9-to-5.
---
Finally, What are some 5-to-9 ideas he's like to pursue?
Podcasting and YouTube.
Depending on the type of person, podcasting, YouTube, and even interactive courses are natural next steps for writers. It does take someone with a good personality and energy to step out from behind the computer screen and interact with others, but Reed feels this is a realistic opportunity worth exploring.
Creating more media around your writing allows you to gain more insights from your readers and "solidify your place as a thought leader".
They are also great ways to add to your revenue stream.
---
Final Thoughts
I'd like to personally thank Reed for taking the time to chat about his 5-to-9 and share valuable insights into what's worked for him.
If you have any questions directly for Reed, he kindly shared his email address with us: Reed@mindcafe.co
You can also check out his writing on Medium here: https://medium.com/@ReedRawlings